MasterClass is an online learning platform that aims to help people learn a variety of skills, without going to the traditional classroom setups. Created by David Rogier and Aaron Rasmussen in 2015, the MasterClass offers numerous courses with only the industry experts as your teachers.
How does MasterClass work?
A typical MasterClass lesson includes 25 videos of 5 – 10 minutes each. In most of these videos, the instructor explains the courses to the camera, while there are a few where the teacher also works with the students.
Each MasterClass also contains downloadable worksheets and reading materials. The videos can be watched on any device compatible with either – Android or iOS.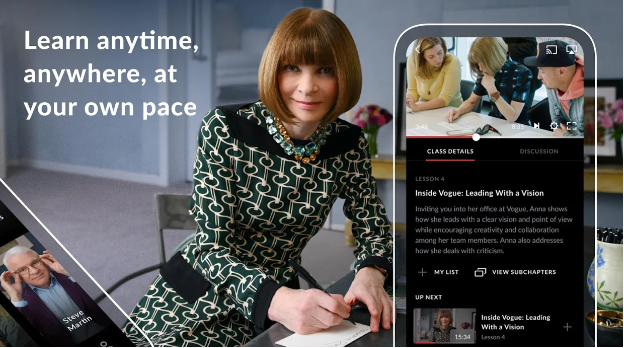 Price of MasterClass:
A single MasterClass is available for $90. If you are planning to take more than one MasterClass, you can also go for an All-Access Pass at $180 per year. This will give you unlimited access to MasterClasses for the whole year.
Courses available with MasterClass:
Some of the most popular MasterClass are:
Cooking by Gordon Ramsay
Music Production by Deadmau5
Film Scoring by Hans Zimmer
TV Writing by Shonda Rhimes
Writing by Judy Blumes, R.L. Stine, and Malcolm Gladwell
Learn Comedy by Steve Martin
Filmmaking by Warner Herzog
Basketball by Stephen Curry
Business Leadership by Howard Schulz of Starbucks
Space Exploration by Chris Hadfield
Acting by Natalie Portman
Who should take MasterClass?
As you can see from the brief course list above, MasterClass caters to individuals from all walks of life. In simple words, the classes can be taken by anyone – from professionals and Oscar winners to homemakers and hobbyists.
Benefits of MasterClass:
One of the biggest benefits of taking a MasterClass is the ability to learn at your own pace from the maestros of the industry. Additionally, MasterClass offers a variety in every disciple. For example, if you are planning to enhance your writing skills, you have the option to learn thrillers by Dan Brown or get tips to write for the young audience by Judy Blume – the options are unlimited.
Some other benefits of taking a MasterClass include:
Affordability
High-quality video
Easy to use platform
Compatible across all devices
Is MasterClass for you?
MasterClass is one of the most authentic online learning platforms. So if you are looking for some courses to enhance your skill, MasterClass is the best place to be.