Are you a K-Pop fan? If you are, you'll the Weverse app. Weverse is your one-stop solution to everything K-Pop.
BenX Entertainment launched the K-pop app. It is a treasure trove of information about popular boy bands, BTS and TXT.
The app was launched after the TXTUniverse website went down. BenX actually directed fans to download the app before taking down the website–and for good reason.
Weverse carries more information and community interaction options than TXTUniverse and ARMYpedia.
It also has loads more features! Here are some of the best ones:
Fan community
The app offers an exclusive space for international fandoms to talk to each other. They can get regular updates about the boy bands they love.
They can even create their own fan posts, art, and photography for their favorite artist or band. Each fan will also have the opportunity to like or comment on their fellow fans' posts.
Video features
K-pop fans will have access to video content from their favorite boy bands and artists. The app will feature official song or music video releases. Weverse also features exclusive interviews, vlogs, and more from your favorite artists.
Exclusive content
If you get an official membership, you can get exclusive content and menus personalized for you. This will include exclusive music and social media content about your favorite artists.
Story feature
The app has a special option for Artist's Moments where you can see your favorite stars up-close. The feature allows you to get updates about bands, individual artists, and more.
The app offers exclusive content from BTS and TXT, along with a bunch of other K-pop artists. You can even interact with the artist by commenting or liking the stories they share.
Languages
The app is the only place where K-pop fandoms don't need to worry about language barriers. BenX realizes that the K-pop fandom is international.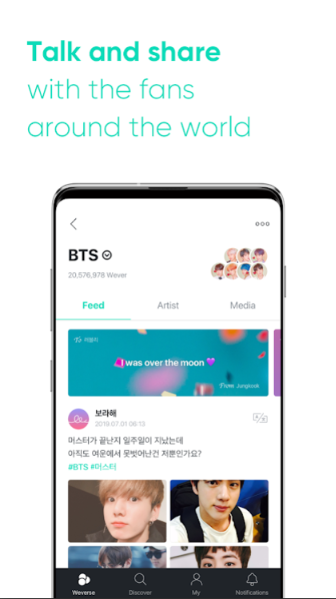 For fans to talk to be able to talk to each other, Weverse has automatic translation options. Even the artist's posts will get easily translated.
Weverse is currently available in Korean, English, and Japanese. It can translate any of these languages for a better user experience.
Get Weversed
The app is available on Apple Store and Google Play and is open to fans above 12 years of age. The app has over a million downloads with regular updates from artists and fans.
So if you are a BUDDY or part of the BTS Army, join the app now.